Philippines, Vietnam to increase defense ties amid China row
 Submitted by

Asian Observer

|  5 / Jul / 2014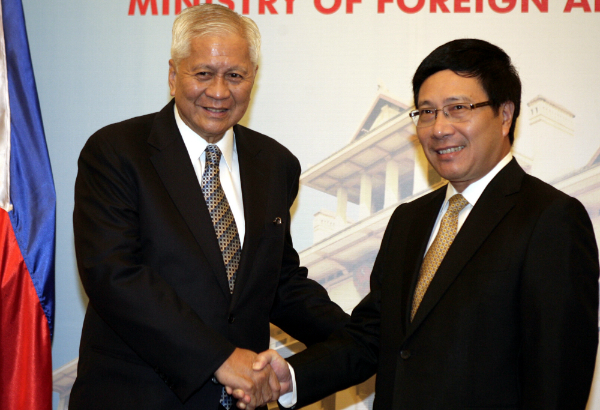 Foreign Affairs Secretary Albert del Rosario shakes hands with Vietnamese Foreign Minister Pham Binh Minh before heading for talks behind closed doors in Hanoi, Vietnam on Wednesday, July 2, 2014. Del Rosario is on a two-day working visit to Vietnam as the countries were embroiled in bitter territorial disputes with China over the South China Sea. AP/Tran Van Minh
MANILA, Philippines - As both countries remain locked in territorial disputes with China, the Philippines and Vietnam have agreed to increase maritime and defense cooperation.
Foreign Affairs Secretary Albert Del Rosario visited Vietnam on Wednesday and discussed several issues with Deputy Prime Minister and Foreign Minister Pham Binh Minh.
The Department of Foreign Affairs (DFA) said the two officials agreed to further promote cooperation in many areas such as fisheries, ocean and maritime, defense and security, trade and investment.
"The Foreign Ministers also agreed to advance partnership to a higher level, including the establishment of a Joint Commission headed by the two Ministers to formulate a road map in working towards a strategic partnership," the DFA said in a statement.
Del Rosario and Minh also exchanged views on the rising tension in the South China Sea and discussed the urgent need to address the escalating challenges through peaceful means and in accordance with international law including the United Nations Convention on the Law of the Sea.
China, the Philippines and Vietnam have overlapping claims in the South China Sea, with the two Southeast Asian nations complaining against the perceived bullying and aggression in the contested waters.
Violent anti-China protests erupted in Vietnam last month after China deployed an oil rig in the waters being disputed by the two countries.